The IKEA trip. 
Moving abroad normally means multiple IKEA trips, if you're in a city that has one. For some (20-somethings? newbies?) this can be fun.  Our first foray into IKEA was in China. Back then,  we (sort-of) enjoyed the shopping process and we would even slow down and take the time to sit and eat the meatballs. For most expats that move around, though, it is just an essential errand that must be done.
Before China, we spent our first two posts living like college students, with nothing on the walls, and no extra purchases other than what the schools provided. I was approaching 30 when we moved to China, so a first trip to IKEA was needed.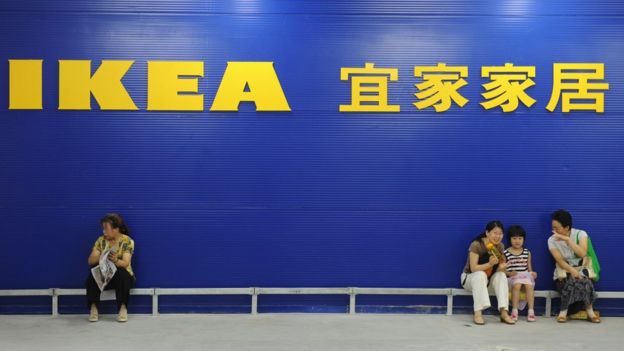 Besides a hazy recollection of the Chinese IKEA store-taxi labyrinth, I have only one vivid memory of that trip: the red rug. I had found a $60 red rug on SALE (a good deal), that I thought was perfect for our house. Oh, the fight over that rug with the Haggard!  "Why do we need a rug?" "$60???"
For that first IKEA trip, I stood my ground, and won. And he was happy once we got that rug in the living room, I will tell you that. This was only one of many such back-and-forth exchanges over purchases (including several more over rugs) that the Haggard and I have had in our almost 13 years of marriage. There will most certainly be more. 
Essential IKEA TIPS
Everyone has their own strategy for dealing with IKEA, but ours is this:
Go with a list. If you don't have a list, you end up buying a bunch of stuff with nowhere to put it. One of our good friends described her process of picking things out as thinking, "Oh, this will look funky in (bedroom/living room)," and then coming home, setting it up and realizing that her house looked like a college dorm room. Been there. More than once–once with a red lamp for the living room (not in the same house with the red rug).

Avoid the show room. They make this difficult, but it can be done with some advance planning. The show room wastes VALUABLE time that should be spent buying the things on the list.

Be there when it opens. In some places (China), this is more important than others. In others (Saudi), be prepared to shop through prayers. There are nice nursing rooms if you have a baby. Even in regular shopping places (Indo?), I imagine it still gets busy, so being the first ones there can only be a good thing.

Go ahead and buy what you've bought before, as long as it has stood the test of time. Most recently we bought the same exact shag rug that we bought in our previous country (the old rug was grimy and slightly grey by the time we left).We loved it when we bought it the first time, and it was on sale the second time around. Win-win. Go ahead and buy the basic things for the kids' rooms. They need to be set up first, and the linens are decent. Again, rugs for kids' rooms are not a bad idea, either.

A set of regular dishes and regular glasses will always come in handy, too.No, they are not original or artisanal, and nothing you would want to ship (although many do!), but they are functional.**

Investigate buying online, as long as there is delivery and set-up included. This could be a game-changer. If you've bought the stuff before, there are no questions.

Go ahead and get the candles.They are cheap and smell good—who cares if everyone else has them.

Proceed with caution when buying floor lamps. The paper shades may look good in some houses, but in most they get torn quickly and do not hold up well. 

Know when to call it quits. When you have filled up two carts, most likely you are exhausted and will be spending enough money for the day. IKEA is not going anywhere.

If it is a smaller IKEA with fewer selections, do not buy round bath mats. They are over-priced for what they are, and you can probably find better quality at a local store. And the white small ones get very dirty with small (and big) feet…not worth even 2$!

MOST IMPORTANT ADVICE: DO NOT TAKE THE KIDS!Bad, bad idea. Some have play places, which may work if you're in a bind. But if you have the option of childcare, take it!  For this latest move, we hired a teenager to watch our two. They were happy, and we survived. Another win-win.

If you must go multiple times, repeat steps 1-3 at the very least.
Before our latest move, I boldly proclaimed to the friends I was leaving—"I'm not going to IKEA! I can wait it out and buy things I really want and like." Turns out that was all talk…we arrived at a house that literally had four of the cheapest towels I've ever seen, three cheap pans, and a four-set of cheap plates and cutlery. One week after move-in, I conceded to the Haggard—"I guess we have to go to IKEA."   And despite sharing a van with another family and the driver getting lost (choosing not to use the GPS), we made it! It may not be for the faint of heart, but with a bit of gumption and preparation, IKEA can be done, and your home will be on the road to cozy.
*I recently heard the funniest story from a new friend who evidently "did IKEA" in 45 minutes–she said she is a machine, and runs through picking up all the items she's bought before. Why not? No need to waste time finding the essentials in a new locale!
–The Lyon